Results of ASIA 2011 Winners Announced!
We have received 370+ submissions this year from over the 20 Asian countries and cities and after a tough deliberation by our judges, the results are finally out! Congratulations for all the winners!
View the results
Asia Social Innovation Award 2011
Social Enterprise + Innovation = Change!
You too can bring about a Social Revolution!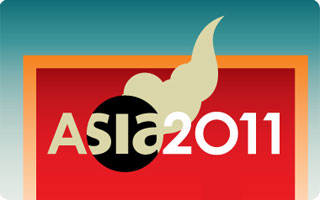 Innovation culture is relatively weak in Asia, and that also creates a big barrier for social entrepreneurship to groom in the region. Besides, social issues in urban area in Asia are quite alike. It's worth our time to think about social innovation ideas together and share experience along the road. To pathway for a sustainable development of social innovation culture in the region, we would like to initiate the discussion by promoting social. The Asia Social Innovation Award would serve as one of the pioneer to create this new page.
About the Award
How to participate »
Move to Top
We believe that the urban social challenges in many Asian cities are quite alike, these pressing problems need to be solved immediately, and whenever the traditional model does not satisfy the needs of the society, innovations are demanded.
"Social Enterprise" has become a hot topic in recent years. However people tend to focus their discussion on the entity itself, instead of the more powerful concept behind that leads to ultimate social change - "Social Innovation", which is also relatively weak in AsiAa, creating a big barrier for social entrepreneurship to groom in the region.
However, from a worldwide perspective, social enterprises have undeniably brought great positive impact worldwide. For instance, social enterprise accounts for 1% of the GDP in UK. In fact, social enterprises contribute tremendously in creating a culture of social innovation among communities.
In order to promote the culture of social innovation and enrich people's knowledge on social issues, and to build a platform to encourage the sharing of ideas and experience among Asian cities, the Asia Social Innovation Award has been born since 2008, hoping to pathway for a sustainable development of social innovation culture in the region.
The Award will be the first innovative social enterprise event in Asia to apply a simple and easy mechanism to engage the general public to participate in the discussion, and to deliver positive and concrete innovative solutions to tackle these problems.
We hope that this simple idea-generating competition calling for level-zero social innovation ideas will be able to attract the general public to take part.
So, it's now time for us to brainstorm some creative ideas, and you too can bring about a social revolution. Make use of your imagination, and change might be initiated by you in the society!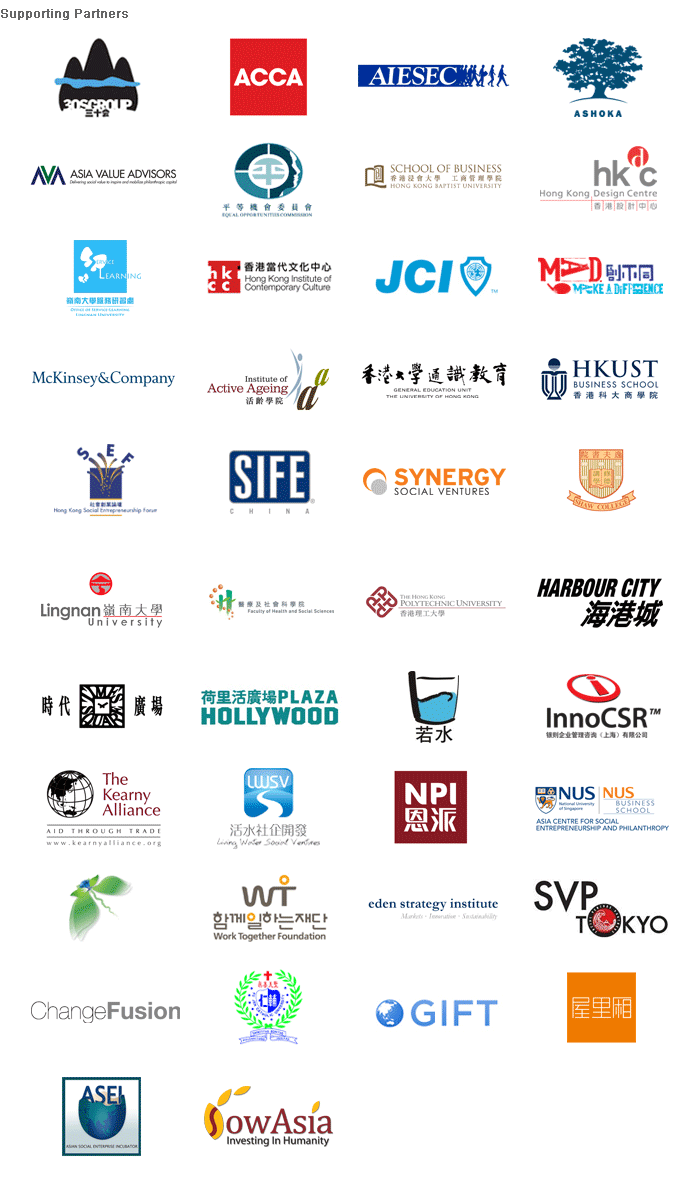 Move to Top
Call for Solutions
Pick one of the following social agenda and propose an innovative social enterprise concept using 200-500 words. You may also submit multimedia such as graphics or videos.
Agenda 1: Aging Population
Fast-greying economic regions in Asia are going to be confronted with the challenges of noteworthy aging population. Longevity and low birth rate are the main contributing factors of such aging phenomenon, and the elder dependency ratio in some cities is already above 20%.
To combat this inevitable situation, innovative ideas are needed. This includes methods to cope with the pressure on healthcare services and long-term medical care required by elderly; the design of various community facilities and infrastructure; the requirements of tailored-design products and services for the elderly etc. What innovative ideas can you think of to help our society adapt to an aging environment?
Agenda 2: Environment
Asian cities are choking with all types of pollution: air, water, noise, and light. Meanwhile, Asian cities are facing a dilemma in trying to strike a fine balance between development and conservation, and to tackle the carbon emission that leads to global warming and other issues such as food hygiene and safety, as well as energy preservation. What creative solutions can you come up with to build a more sustainable society?
Agenda 3: Poverty
The degree of urbanization and poverty in Asia varies across cities but it is clear that income disparity is deteriorating as evident from the high Gini Coefficient.
With the climbing inflation rate, access to basic necessities has become a challenging task for many. The income disparity also leads to a series of problems, including working poor; elderly poor; difficulties for ethnic minorities and marginal youth to find jobs; housing and food problems; and the complications for those suffering from intergenerational poverty to receive quality education. What can be done to alleviate poverty from bottom up?
Move to Top
We have received 270+ submissions this year from all across Asia and after a tough deliberation by our judges, the results are finally out! We would like to take this opportunity to congratulate the winners and all the participants for their truly innovative ideas. The judges were highly impressed with the quality of submissions received this year and it was a vey difficult choice to select only one winner from each category. We hope you have enjoyed the process of thinking social and strongly encourage you to ask your family and friends to do the same.
To keep up-to-date with Social Ventures Hong Kong (SVhk)'s future competitions, events or announcement, please don't forget to like us on Facebook or to subscribe to our mailing list. Once again, thank you all for your efforts and we appreciate your creativity and innovation.
Asian Winners
Aging Population

English Name: Benjamin Loh Chiang Lai
Chinese Name: 卢章来
Occupation: Student & Entrepreneur
Country of Residence: Singapore
Idea: Silver Lining - Inspired by the possibilities offered in the "third age", Silver Lining is a complete suite of Employment, Collaboration and Engagement solutions catered for retirees and powered through Web 2.0 applications. Think how a group of professional retirees can have a new lease of life again – to put their wealth of experiences, expertise and knowledge for commercial projects in a technologically empowered micro-employment platform. Through peer-to-peer collaboration, the retirees not only benefit from the created additional sources of employment but also get to enjoy inter-personal bonding and interaction with the flexibility in work and lifestyle arrangements.

Environment

English Name: Kim Se Jin
Occupation: Student
Country of Residence: South Korea
Idea: Just ONE Day Project aims to efficiently consume "to-be expired" food products in convenience stores and bakeries. It provides information to consumers via smartphone applications based on existing databases of product expiration dates. Consumers will receive information on "to-be expired" food products and discount coupon which would in turn induce an increase of purchase.

Poverty

English Name: Wakana Nukui
Chinese Name: 温井和佳奈
Occupation: President
Country of Residence: Japan
Idea: DREAM GIRLS Project has a mission of creating a stage which "makes women's dreams come true" through dream jobs such as graphic designer by employing Asian women of developing countries. And by making role models of women who are economically independent, we can accelerate the social status of women. As a result, the number of the prostituting women will decrease and the true improvement of women's position will become reality.
Hong Kong Winners
Aging Population

English Name: Wong Yuk Lan Grace
Chinese Name: 王玉蘭
Occupation: Purchasing Manager
Idea: Elderly Bulletin - Eldery often do not have easy access to information we take for granted. The Elderly Bulletin will feature advertisements from health and medical products, coupons and promotions of social enterprises, restaurants, travel agents or hotels for the elderly. The Bulletin will be distributed among elderly centres, community centres and non-profit orgnisations.

Poverty

English Name: Chen Jia Ying Shirley
Chinese Name: 陳嘉穎
Occupation: Student
Idea: Low-Price High-Quality Tutorial Website - Nowadays, attending tutorial classes has become a must-do thing for most students. However, tuition fee for one subject per month costs around $500 HKD, which is not a small amount for a poverty-stricken family, which means that a lot of grass-root students cannot get. Therefore, I propose that an online education website to be set up, with its primary focus on providing high quality tutorial videos at a low price. After gaining access to the website, students will be able to watch each educational video once and the unlimited use of online resources such as notes and exercise. I would like to invite some leading education institute to support the website by allowing us to stream the tutorial videos on the website. Other tutorial schools are also welcomed to upload their teaching material to the database.

Environment

English Name: Wang Linlin
Chinese Name: 王琳琳
Occupation: Student
Idea: E-Receipts - The general idea of E-Receipts is to decrease the amount of printed-out receipts by giving customers the discretion to choose whether to print or not. In order to ensure transaction safety and give consumers the choice to keep receipts without printing it, E-Receipts will also cooperate with telecommunication/internet services companies to send electronic receipts to consumers when mobile phone numbers/e-mail addresses are provided. For members of certain shops and those Special Octopus Card holders, this would be easy as their personal information have already been recorded, but on other occasions customers may be reluctant to provide email addresses/phone numbers due to privacy or time concerns.
Best Multi-media Award
English Name: Ngai Si Man Winnie
Chinese Name: 魏思敏
Occupation: Product & Graphic Designer
Idea: Beecycle - My project aims to promote communal activity and bring positive contribution to our living environment. 'Beecycle' is not only a public bicycle sharing concept but also a collective action of the benefit of living environment. While we are cycling, we are also generating electricity. The electricity can be used as a personal charging tool for mobile phones or mp3 players, etc. In the Beecycle system, the generated residual electricity would be stored. When the bicycle is parked, the electricity would be transferred to a central panel and offer to the Beecycle station, and then shared by others. Of course, more people cycling, more electricity can be generated.
The winners were presented with their awards at the Social Enterprise Summit held in Hong Kong on the 24 - 27 Nov, 2011.
Move to Top
Judging Criteria
Criteria include originality, viability and sustainability of idea. Apart from imaginative and innovative ideas or concept, existing ideas are also welcomed.
Judges
Joe Ngai
Managing Partner, McKinsey & Co. Hong Kong

Tanya Chan
Hong Kong Legislative Council Member

Dumith Fernando
Managing Director and Chief Operating Officer of Credit Suisse, Asia Pacific
Award
The winner of each social issue category will be awarded HK$ 2,000 (~US$250) each.
There will be 3 winners from Asia cities, and 3 winners from Hong Kong.
Asian winners will be invited to join the Award Presentation Ceremony in Hong Kong in late-November (24-27th November, 2011) with free accommodation and a free round-trip tickets from any Asian countries1 to Hong Kong.
Also, the "Best Multimedia Award" for the best idea presented in multimedia format among the Hong Kong entries (HK$ 2,000).
Winning and selected ideas will be published on the Award website.
1 List of qualified Asian countries/cities, subjected to the addition or removal of countries at the sole discretion of SVhk:
Bangladesh, Bhutan, Brunei, Burma, Cambodia, China, East Timor, India, Indonesia, Japan, Laos, Malaysia, Maldives, Mongolia, Nepal, Pakistan, Philippines, Singapore, South Korea, Sri Lanka, Thailand, Vietnam.
Submission Deadline
Other Asian Cities: On or before 23th October, 2011 (Sunday) at 23:59pm (Hong Kong time)
Hong Kong: On or before 6th November, 2011 (Sunday) at 23:59pm (Hong Kong time)
Results Announcement
The winning ideas from other Asian countries will be posted in early-November, while the winning ideas from Hong Kong will be posted in mid-November.
You can learn more about last year's winning ideas at the Asia Social Innovation Award 2010 website.
Frequently Asked Questions (FAQ)
Do I need to work on all 3 social issues?
For each application, you only need to suggest an idea that addresses one of the social issues. You can at most submit 3 separate applications, each of them tackling one of the given problems.
How can I submit my application?
We strongly recommend applicants to type out their idea and submit your application online. If you are unable to do so, please consult the organization you belong to, and see if they can enter the information into the computer and send it for you. Application can also be submitted through mail.
Can I submit in other languages other than English and Chinese?
The judging panel will only judge those ideas that are in English or Chinese. If you unable to fulfill this requirement, please consult the organization you belong to, and see if they will be able to translate the main theme of your idea into the appropriate language and submit the application to Social Ventures Hong Kong
Terms & Conditions
Each participant may only submit one idea for each social issue.
Only residents of the Hong Kong SAR may participate under the Hong Kong SAR regional category. Residents of other Asian countries please enter under "Other Asian Cities".
The Organizer is only responsible for a round-trip economy class air ticket to and from a designated port of departure within the list of qualified Asian countries to Hong Kong. The round-trip air ticket is capped at maximum subsidy of US$1,000 through the cheapest travelling means obtained by the Organizer
The Organizer has the power to arrange for, change or cancel the travel plans of the Asian winner without prior notice or compensation.
The round-trip air tickets cannot be converted into cash.
All participating proposals may be published on the Award website or any other media, to share the ideas with the public.
Social Ventures Hong Kong reserves the final power to interpret and amend such terms and conditions of the Award.
Move to Top
Being one of the social entrepreneurship intermediates in Hong Kong, Social Ventures Hong Kong (SVHK), has dedicated itself in promoting this concept through practicing venture philanthropy in supporting social innovation projects. At the same time, SVHK will promote social entrepreneurship by providing training, consultancy and organize promotion events in various sectors.